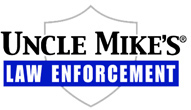 Uncle Mike's – Law Enforcement gear

If you have a concealed carry permit, keeping your gun concealed, comfortable and accessible ranks second only to learning how to shoot.
Michaels of Oregon, the world's largest holster manufacturer, has developed 16 different concealment holsters, using advanced materials and proven techniques to meet the special needs of gun owners.
Our own law enforcement division has drawn on its many years of practical and teaching experience to design holsters that not only conceal the firearm, but make it easy to draw and comfortable to wear.
Sidekick® Professional holsters are constructed of a durable, waterproof laminate to protect your gun and clothing form the effects of perspiration. Tough, nylon hybrid materials such as Cordura® or Mirage® nylon are used on the exterior of holsters typically subject to abrasion. Inside-the-pant and pocket holsters are engineered to cling to clothing, while those that tuck under your arm utilize soft, non-chafing material for maximum comfort and service.
The Best Way To Carry Your Guns And Gear
For Hunting
Rugged construction, practical design and universal application are Uncle Mike's stock in trade, whether you want to sling your rifle or holster your big scoped handgun.
Every accessory we make, from swivels and slings to holsters, ammo carriers and gun cases, will exceed your demands for quality hunting gear.
For Shooting
The Uncle Mike's SIDEKICK® brand is on more holsters, belts and accessories than any other…and for good reason.
We developed and patented the famous SIDEKICK laminate that outperforms leather and other synthetics. And we continually develop designs and new materials that protect your guns and make your gear more accessible.
For Concealed Carry
Michaels offers 16 different concealed carry holster options for shooters and plain clothes law enforcement officers. Each is designed and constructed to carry a concealed gun safely, comfortably, and easy draw and reholster.
To see our Uncle Mike's range click here, or contact us to find out more about deals and product ranges we can offer you.