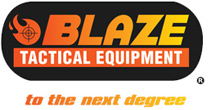 Blaze™ Tactical Equipment – to the next degree
Australian owned and designed, Blaze Tactical Equipment, has worked closely with industry professionals to develop products specifically for the local security and law enforcement industry.
Blaze Tactical Equipment understands your need for quality and reliability, so with your help, we've put together a comprehensive range of specialised duty gear and accessories.
The range includes duty belts, pouches, tactical bags, gloves, torches, metal detectors, and clothing apparel.
This range has been developed from over 30 years of working alongside law enforcement professionals, now allowing us to bring the very latest in Tactical equipment. 
Functionality, quality, reliability, and toughness. We have carefully listened to you and back all products with the Blaze Buyers Guarantee (see below)
Massive on features, reliability, value and quality
Blaze Tactical Equipment – taking you to the next degree….

All BLAZE® Tactical Gear comes with the BLAZE® Buyers Guarantee;
If you are not 100% satisfied that your gear has held up to our high standards,
we will exchange or refund the product – no questions asked!!!
To see our BLAZE range click here, or contact us to find out more about deals and product ranges we can offer you.