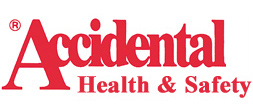 Accidental Health & Safety – First Aid Kits & Supplies
Safety On Site
Accidental provides Safety On Site through our network of over 60 agents and representatives across all Australian states.
Specialising in First Aid related products & supplies, we also offer a large range of safety products including; safety signs, barriers, and personal protective equipment.
At Accidental, we regard ourselves as the First Aid experts, developing new products to comply with the various state regulations around Australia. Our products are registered with the Therapeutic Goods Association where appropriate and are developed in adherence with the various regulatory advisors and authorities on First Aid products. All Accidental products are covered by a 1 year product guarantee. We take the worry out of First Aid compliance!
About Us
Accidental Health & Safety has been trading since 1986. Today we boast a national network exceeding 80 representatives. This has positioned Accidental as a leading first aid, health and safety supply company that has taken the initiative in providing the very best products and service into the Australian market place. We have built a reputation on honesty, reliability, and understanding the needs of our customers and customising our service to meet those needs.
Located in the south-west suburbs of Sydney, Accidental Health & Safety will continue to show the way in responding to our customers' needs and future trends, always bringing the best in efficient friendly service, top quality products, and up-to-date information and advice.
Contact us to find out more about deals and product ranges we can offer you.